The kit has a lot of different measurements, so I've compiled some information for drilling, countersinking and rivet sizing. I've also made myself a handy little reference block out of wood so I can quickly check sizing while I'm in the garage.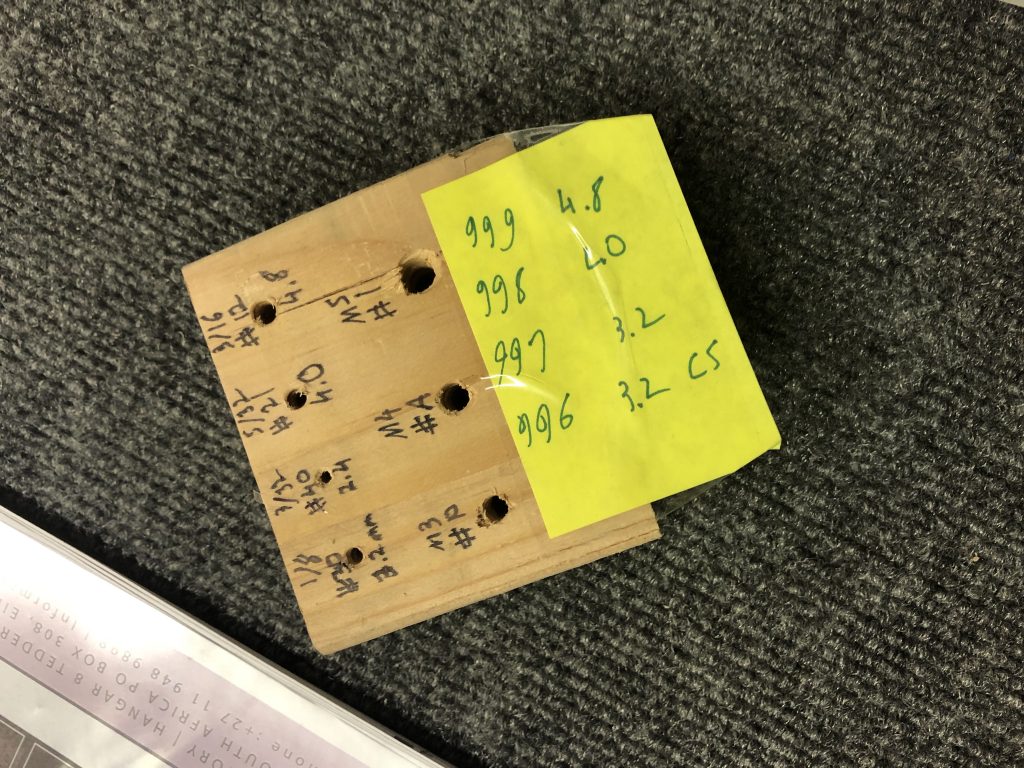 Hole alignment
The factory has already drilled most of the holes, except for a few that need match drilling like the fiberglass tips.
For some minor alignment issues, I'm using some chucking reamer bits to correct the hole.
Countersinking & Dimpling for flush riveting
Since the project is using Pulled Rivets, the angle of the countersunk pulled rivets is 120 degrees, as opposed to solid aviation rivets, which use 100 degrees.

For that purpose, the factory has specific dimple dies for the thinner parts that are dimpled for flush riveting.
Some of the parts, such as the fiberglass tips or thicker metal pieces (from the EAA Sheet metal course I took, I learned the rule of thumb is metal ticker than 0.04 inches) need to be countersunk. To be consistent when countersinking, I use a Microstop Countersink drill guide and a 120 degree countersink pilot cutter.
I did a write-up as part of this post of why it's so important to use the correct size countersinking pilot.
Rivet sizing
| Rivet Size Metric | Rivet Size Fractional Inches | Drill size |
| --- | --- | --- |
| 2.4 mm | 3/32 | #40 |
| 3.2 mm | 1/8 | #30 |
| 4.0 mm | 5/32 | #21 |
| 4.8 mm | 3/16 | #12 |
Rivnut sizing
| Rivnut Size Metric | Rivnut outside diameter | Drill size | Closest Numbered Drill size |
| --- | --- | --- | --- |
| M3 | 4.9 mm | 5 mm (13/64) | #10 |
| M4 | 5.9 mm | 6 mm (7/32) | #A |
| M5 | 6.87 mm | 7 mm (9/32) | #I |